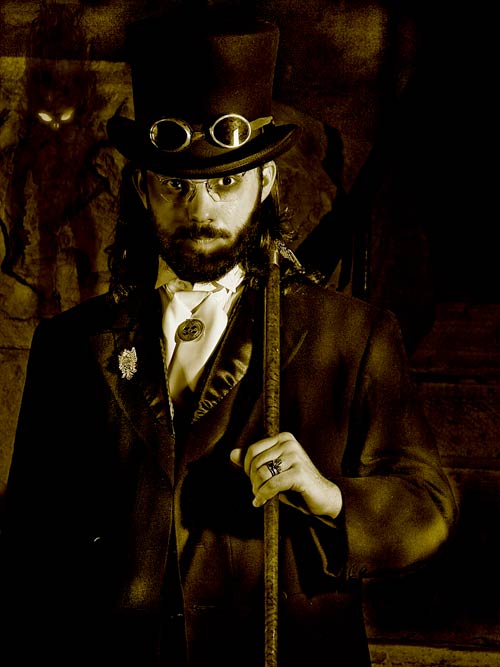 Field Sounds: Uncovering the Noble Faery Message
Hello dear readers.  Professor Welterschmidt (pictured once again above) and I are still deep in the thick of the Bird Queen/Boggart ordeal.  I should have a very satisfying update on that matter by next week.  In the meanwhile, Miss Watkins has put together a wonderful edition of the Field Sounds acoustic recording.  This week, along with the help of our Tinkerer, she has deciphered the hidden meaning of the noble faery music.  We would very much appreciate your advice on how we should proceed in this matter.
Fall is rapidly approaching the city and with it, the annual slow-down in my research.  Never fear, however. I plan to make use time with laboratory experiments and by turning to some ethnographic work.  There are many unusual peoples making their residence here in the City, and some of them suffer plights that cannot go ignored.  In particular, I hope to shine a light on some of the deplorable conditions that the buckmen and doewomen live under.  As the latest in a long history of refugee populations, they have it the worst, but there are other conditions that I wish to investigate.
I believe as an outsider to the City, I can present a fair view of these matters.  Local researchers often show their bias in using such terms as "savages" and the like.  While most here are Englunders, they are not native to this place, and yet they treat the more unusual arrivals very poorly.  It's one of the great shames of my adopted city.
I have one other important bit of news to relate to you this week.  Miss Watkins insist that I spend time talking about our latest membership drive.  Memberships in the Roundbottom Foundation can now be purchased on the Foundation section of the Informatitron.  Memberships have a purchase price of $35 (translated to your local currency).  They include a membership card, a letter of thanks, and one 8 inch by 10 inch print of some of my earliest photonic captures.   Larger prints of all other photonic captures can be purchased for reasonable sums.  See the Print Store for more details regarding that.
Now, with the distasteful issue of finances out of the way, I present to you the fourth edition of Field Sounds:
[podcast]http://www.clockpunk.com/audio/roundbottoms1e4.mp3[/podcast]

You can follow any responses to this entry through the RSS 2.0 feed. Both comments and pings are currently closed.
« The Arrival of Professor Welterschmidt | An End to the War and a Friendship »